"My approach to piano servicing is from the player's perspective; making the piano sound and feel as good as possible."
Welcome to Forte Piano Tuning. My name is Christine McCrae and I pride myself on providing professional, affordable and reliable technical piano services in the greater Melbourne area. My services include piano tuning, voicing, repairs, regulation, buyer's appraisals and piano cleaning.
While all pianos generally have the same internal mechanism, they are all individuals with their own unique voice. I relish the challenge of bringing out the best in each piano and creating the smoothest musical canvas for the pianist to paint their musical picture.
Evening and weekend services available
Can't do business hours? No problem. Call me for an evening or weekend appointment.
Transparent fees with no hidden costs
All fees and charges are explained before any work is carried out, so you know exactly what you'll be paying.
Fully insured and the quality of all work is guaranteed
Christine has been formally and expertly trained at the Australasian School of Piano Technology (ASPT), so you can relax knowing that your piano is in knowledgeable hands.
Recent Reviews on Google…
Great, professional and friendly. Repaired some keys as an extra. Kid's very happy with the finish.

brendan dominguez


6/27/2020

Christine is a true professional. Arrives on time and gets to work. She certainly is a highly qualified and talented piano tuner. Her costs are incredibly reasonable, and it obviously means a lot to her to do the job properly. I cannot fault the service and have no hesitation in recommending her.

Anne Treloar


9/12/2019

Thanks Christine for your attention to detail in tuning my grand piano. It had been waay too long since the last tune - it is a joy to play again!

Mark O'Donnell


9/08/2019
---
Services and Pricing
Tuning
Call Out Fee
All services attract a $30 call out fee within the greater Melbourne metropolitan area.
Standard Tuning
A standard tuning is a fine tuning of the piano where the piano is not more than 10% of a semitone out of tune. Ideally the piano should be tuned to A4=440Hz. Pianos are designed to sound their best at that pitch, and will sound comparatively dull when tuned at a lower pitch. Maintaining your piano at the correct pitch also prolongs the life of your instrument. As the piano ages, its ability to withstand large changes in tension decreases. By keeping the piano up to pitch, the tension can be preserved and the piano functional.
Pitch Raise
What is a pitch raise?
A rough tuning before the standard fine tuning. In general, pianos that haven't been tuned for over a year, or are significantly out of tune require a pitch raise. There are 2 main reasons for this.
Substantially raising the pitch of a string creates a significant increase in pressure on the bridge, soundboard and frame. As each string is progressively raised, the corresponding increase in pressure dramatically changes the pitch of previously tuned strings.
The pin block (the piece of wood that all the tuning pins are drilled into that sits behind the iron frame) soundboard, bridges and frame all resist large changes in pressure.
Overdamper Fee
Due to restricted access to mute the strings and consequent longer time required for tuning, overdamper pianos attract an additional fee. In an overdamper the dampers are are above the white felt hammers. When looking inside the piano from above, there will usually be a wooden plank which blocks the view of the hammers for approximately two thirds of them towards the base end. Please see pictures above. A nickname for overdamper pianos is birdcage pianos. They're so-called birdcage pianos because the wires at the front which go from the key all the way up to the damper look like a bird cage.
Conversely, all upright pianos built from about the mid 1920's have modern actions and are known as underdampers. The felt dampers are under the white hammers and obscured from view if looking at the action from the front.
Voicing
What is voicing?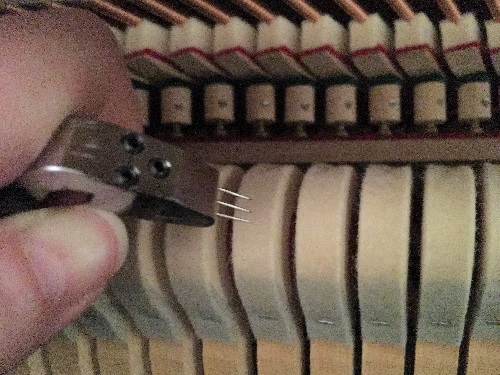 Voicing is the part art, part science of changing the tonal quality of a note, by inserting a needle into highly specific parts of a hammer head. The needling changes the internal tension and elasticity of parts of the hammer felt, which then changes the tone produced when it strikes the strings. In newer pianos the aim is to create subtle adjustments so that all notes have the same tone quality. In older pianos where the hammer felt has hardened naturally through age and wear, the tonal change can be quite dramatic.
Regulation
What is regulation?
Regulation is the adjustment of all moving (and some static) parts of the piano action. Over time with changes in humidity, temperature and use, these parts gradually move out of alignment. Between most moving parts of the piano action is a layer of felt which can either absorb excess moisture, dry out or wear thin over time, causing parts to move with too much or too little friction. Worn felt and loose screws can also lead to parts moving out of alignment with each other.
Repairs
All general repairs including (but not limited to)…
Hammer re-shaping
Bridle tape replacement
Chipped or damaged keys
Bushing felt replacement
Broken hammer shanks
Broken springs
Broken strings
Broken pedals
Squeaks and noises
Key top replacement
Flange re-centering
Damper re-felting
Buyer's Appraisal
Looking to buy a second, or third or fourth-hand piano? Older pianos vary in condition enormously, depending on their original quality, maintenance history, environmental exposure and usage. There is nothing more heartbreaking than buying a piano, getting it professionally moved (at great cost) into your home and then finding out that it can't be tuned. For peace of mind, I offer a buyer's appraisal service from $40.
Piano Cleaning
Over the years dirt and dust finds its way to settle inside pianos. Using a piano cover will help prevent dust and avoid damage to the case of your piano. Frequent dusting on the outside is recommended, but internal cleaning of the piano is best performed by a professional as it is easy to damage delicate parts. While very tempting to dust, this also includes the dampers of grand pianos. A slight touch can put them out of alignment, making playing troublesome. Piano cleaning services range from $20 to $60, depending on which parts are cleaned, and the dustiness of the piano.